With the rekindled interest in Dirt Rally that my Car-cade has given me I had a bit of a yearning to get Dirt Rally working nicely in VR on the motion rig. You can read more about my motion rig here: http://projectable.me/my-sim-racing-motion-rig-version-2/
The problems
The issue I had was 2 fold: #1 the motion was too violent, and #2 even with a GTX1080Ti the framerate was really inconsistent, leading to really bad motion sickness. I had put a small amount of time in to trying to figure it out, but in the end I just gave up due to feeling quite ill.
The Fixes
I tackled the motion aspect first, it took some motion profile tuning inside SimXperience Sim Commander, mainly smoothing for the device and a smoothing filter on acceleration/braking/cornering g-forces. With the heavily smoothed profile things were less back-breaking.
Secondly I dived in to the graphics quality, testing how each change "felt" and eventually ending up with a profile that was mostly medium and low settings. The only things left on high were track and car detail. Its a bit of a shame to end up with such low settings on such a high end graphics card, but thats what I ended up with after "gut checking" them.
After testing and doing a few runs I was quite happy that I no longer wanted to loose my lunch. It shows just how important high FPS without any stutter is to avoid motion sickness in VR.
Some tweaking
During all the testing I found that the actuator bar was hitting the back of the seat, meaning there was a LOT of flex and disconnect between the seat and the seat platform. I quickly bent up a bracket to fix this. The seat had an M8 bolt at the top that I used to mount back to the top of the seat platform. This extra rigidity helps a LOT! It's not pretty, but it works. I had to use a rubber bushing between the bracket and the seat, as without it there was a lot of actuator noise that was resinating in the seat itself.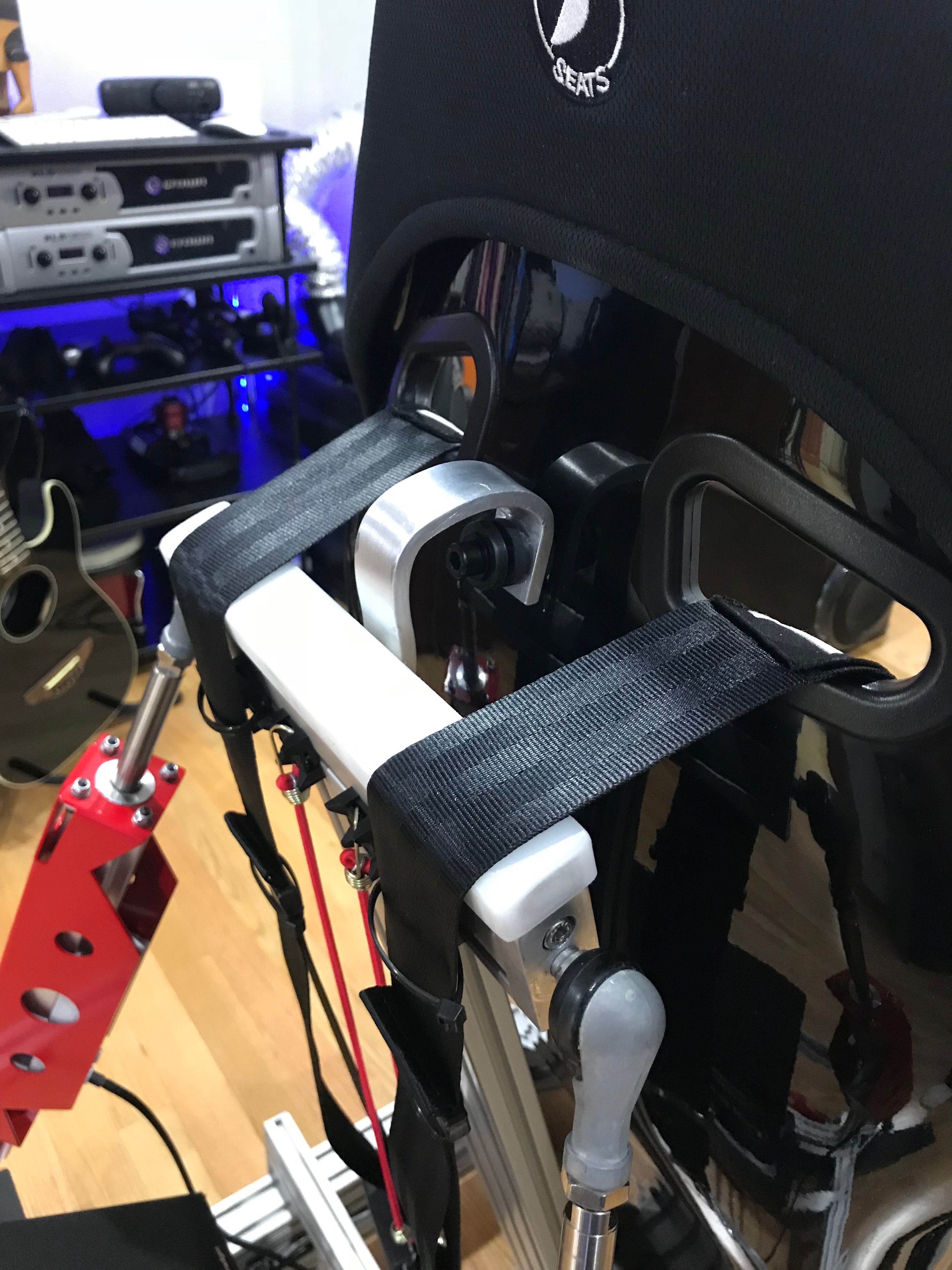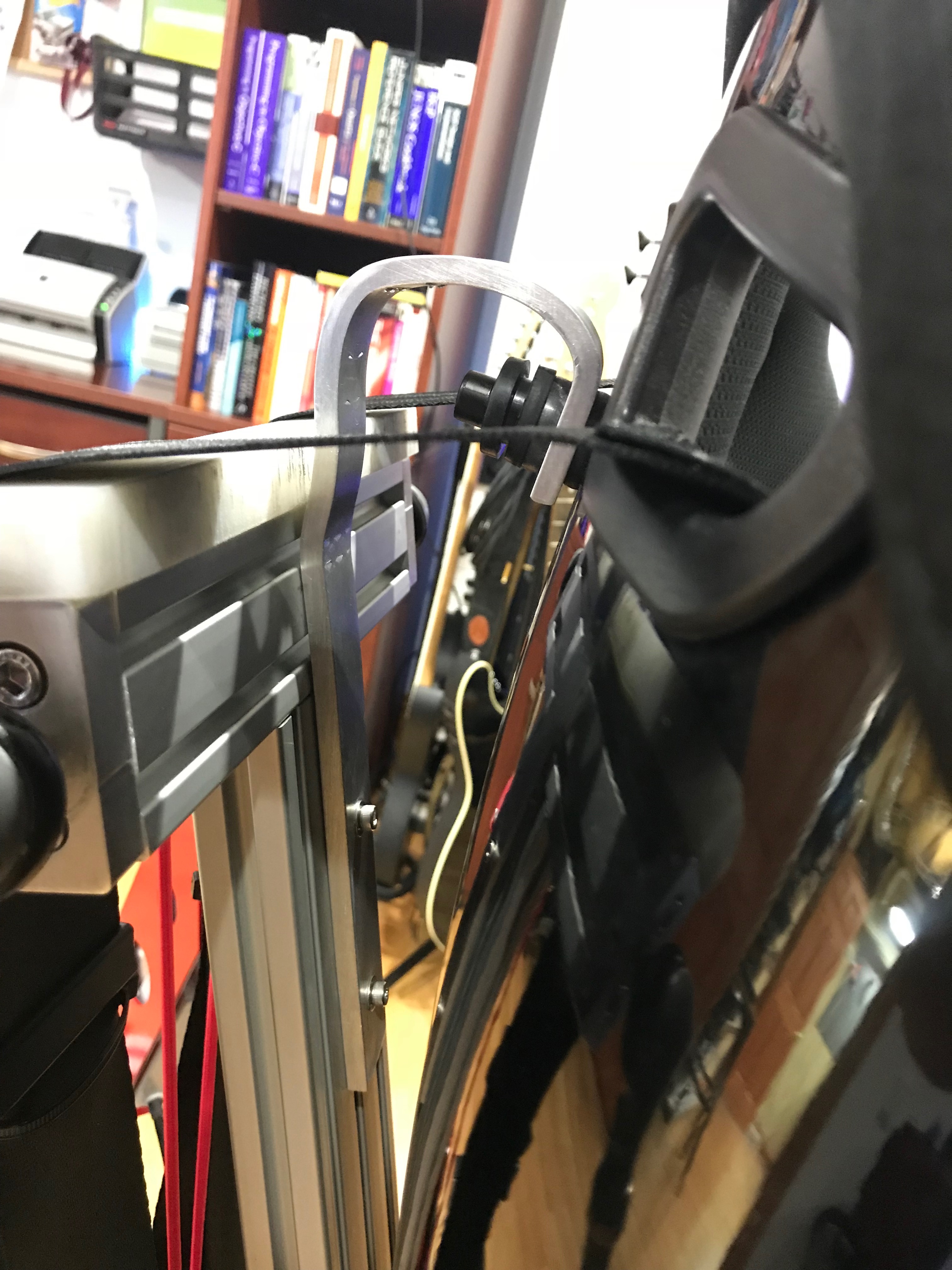 Final Thoughts
So there we have it. Small tweaks and changes to the rig to help enhance the experience, and some game settings tweaks along with motion profile changes to make Dirt Rally a playable experience in motion VR!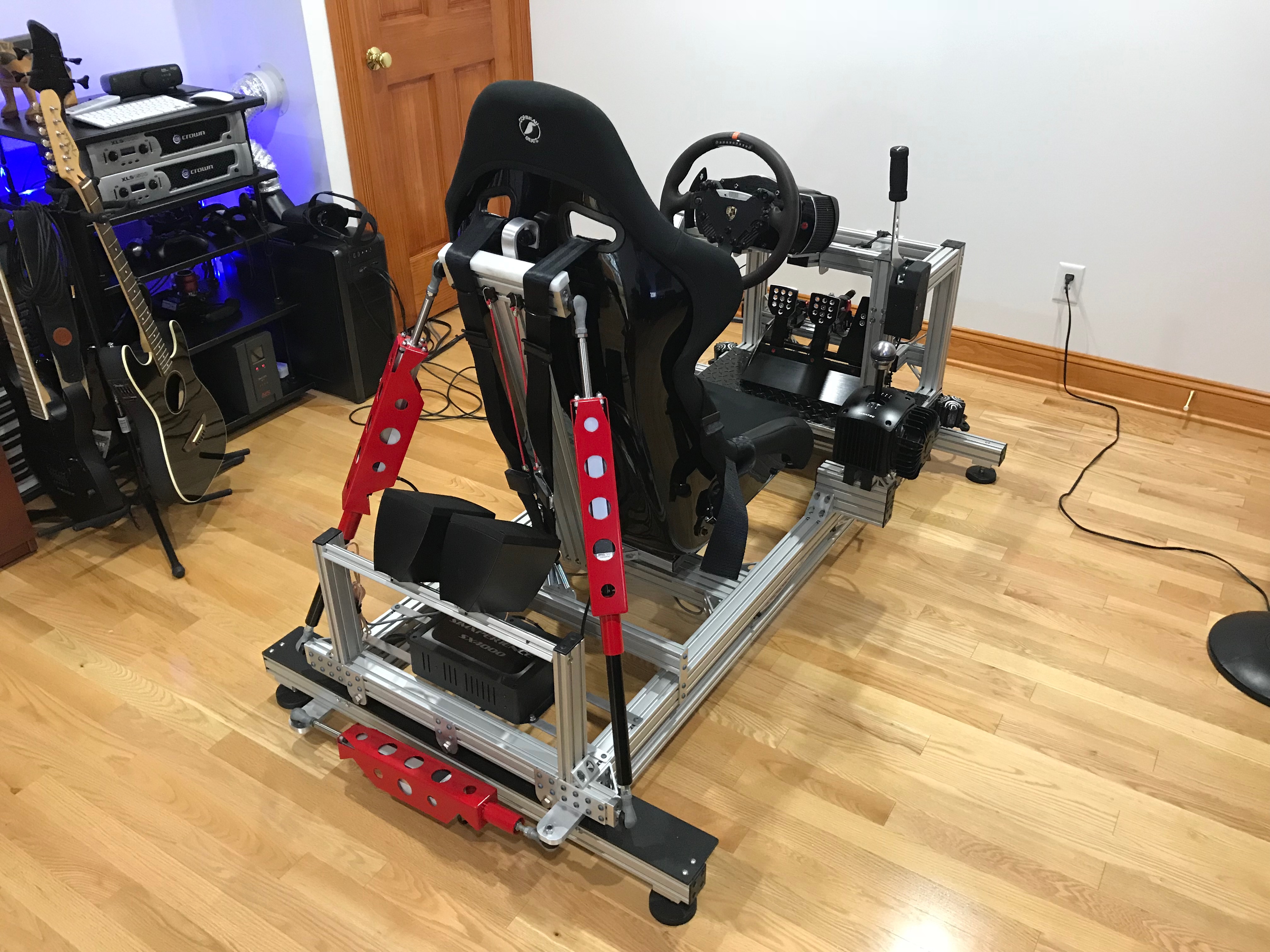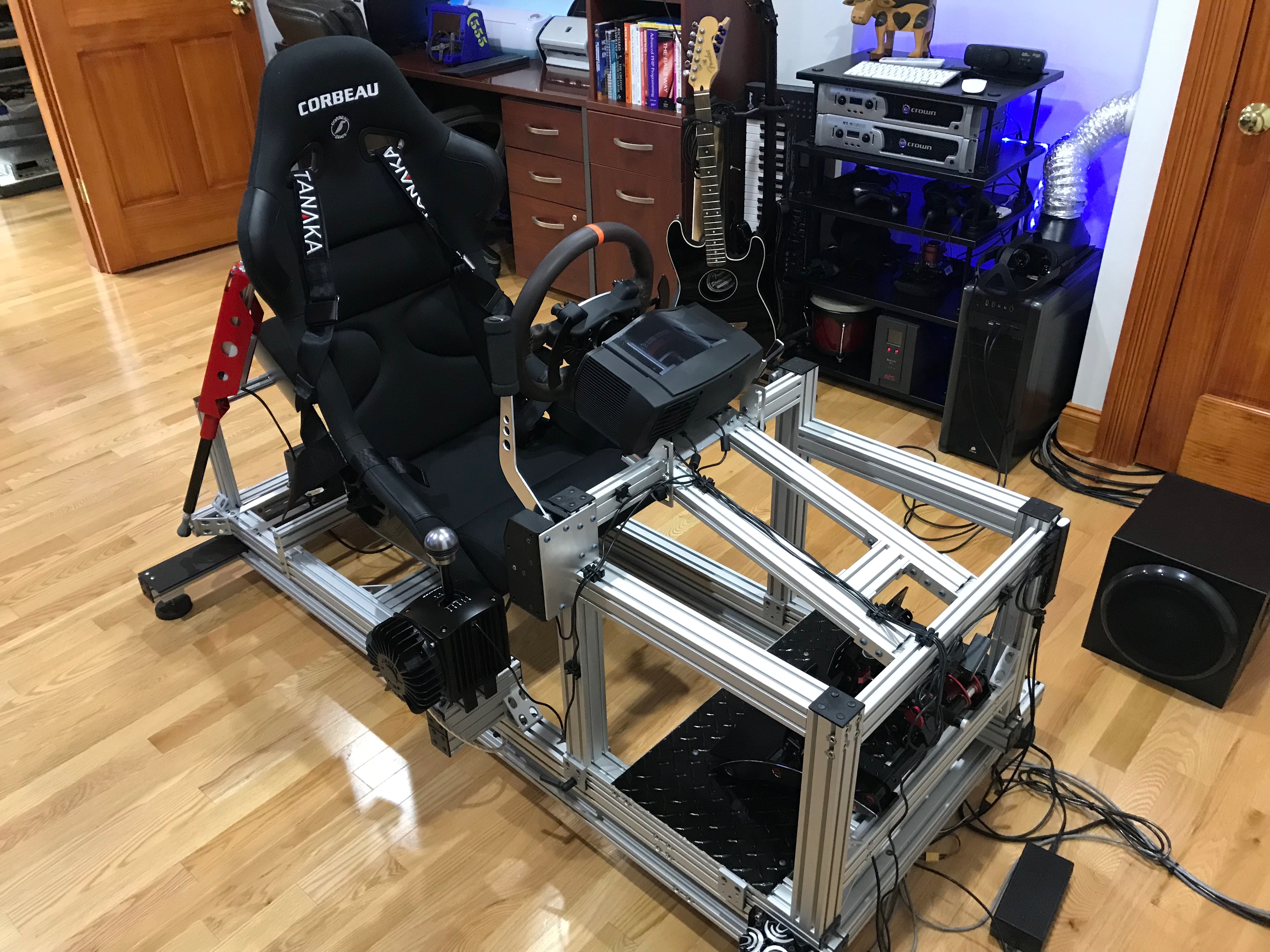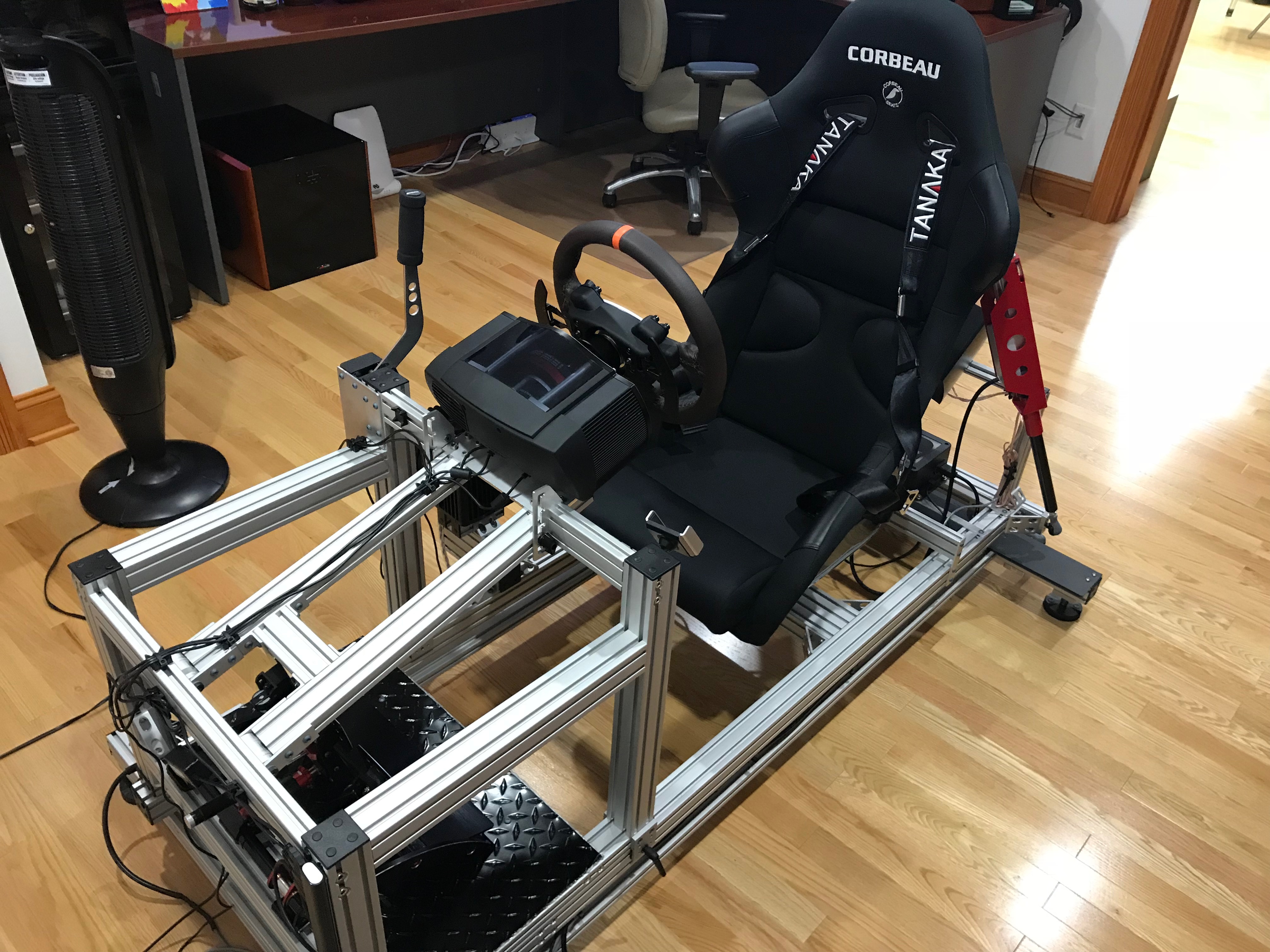 System Specifications
PC
i7-5820K
32G ram
GTX 1080Ti
Benq W1080ST projector projecting on the wall
Oculus Rift CV1
Motion Rig
Custom 8020 aluminum extrusion rig
SimXperience DIY motion platform
Fanatec CSW V2
Fanatec CSW Pedals V3
Fanatec Sequential Shifter V1.5
Fanatec Handbrake